Posts for category: Uncategorized
By Eric Romano DDS
July 23, 2013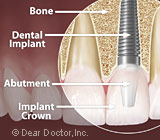 Performing dental implant surgery involves placing a metal post inside the bone of the jaw, and ensuring that it fits so precisely and functions so well that you never notice the tooth replacement — and yet it can last for decades. Does it sound terrifically complex or painful? It's not! In fact, the procedure has a success rate of 95-97%, the highest of any tooth replacement option. Here's what you need to know about dental implant surgery.
A dental implant is designed to replace the root part of the tooth. To replace the visible part of the tooth, a crown, bridge or denture can be attached once the implant is secure — which may be the same day or several weeks later, depending on the individual situation. Dental implants are made of titanium (or its alloys), because this metal has a unique property: it's capable of fusing to bone, a process called osseo-integration.
Before placing the implant, a lot of planning goes on — typically involving X-rays (radiographs), and sometimes CT scans. This ensures that the operation itself goes smoothly. When it's time for the procedure you'll receive a local anesthetic, and we'll make sure you don't feel anything.
Next, we access the bone itself, often by making a small flap-like incision in the gum tissue. The living bone is handled with extreme care as a tiny amount is removed to make space for the implant. After the implant is fitted precisely in the bone, the gum tissue is closed, often with self-absorbing sutures (stitches) that don't need removal. And then the procedure's over.
Is implant placement painful? The simple answer is no — most people feel no pain during surgery and very little discomfort afterward. At most, you may experience some mild vibration during the bone preparation process. If you're nervous about the procedure, it's possible to have a sedative or anti-anxiety medication beforehand. Afterward, taking mild non-steroidal anti-inflammatory medication for a day or two is usually all you need to relieve any post-operative discomfort.
If you have questions about dental implant surgery, please contact us or schedule an appointment for a consultation. You can learn more in the Dear Doctor magazine articles "Dental Implant Surgery" and "Dental Implants."
Welcome to the Blog of Eric Romano DDS
Whether you are an existing patient or searching for a dentist in the Clinton Township area, we're excited you are here. With the dental industry advancing, we recognize the importance of keeping our patients and visitors up to date with all of the new and exciting things taking place in our practice.
As we move forward with our blog, we hope to promote dental awareness as a vital part of your healthy lifestyle. Here you will find a variety of articles and topics including dental news, advancements in dental technology and treatments, practical oral health advice and updates from our practice.
We hope you find our blog to be helpful, engaging and informational to ensure your best dental health.
As always, feel free to contact Eric Romano DDS with any dental questions or concerns.
-- The Dental Team at Eric Romano DDS