Posts for tag: smoking
By Eric Romano DDS
July 26, 2019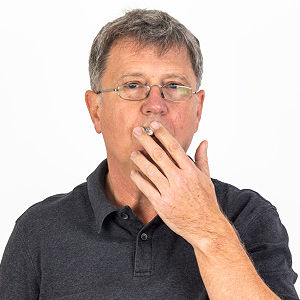 You probably already know that using tobacco causes significant health risks: It increases your odds of getting various cancers and coronary diseases, to name just a few. Unfortunately, not everyone is able to kick the habit, even when they know they should. Tooth loss is another issue that can cause trouble for your health, in the form of bone loss, malnutrition, and social or psychological problems. Dental implants are a great way to replace missing teeth — but does smoking complicate the process of getting implants?
The short answer is yes, smoking can make implant placement a bit riskier — but in the big picture, it doesn't mean you can't (or shouldn't) have this procedure done if it's needed.
Smoking, as you know, has harmful effects in your mouth (even leaving aside the risk of oral cancer). The hot gases can burn the oral cavity and damage salivary glands. Nicotine in smoke reduces blood flow to the soft tissues, which can affect the immune response and slow the processes of healing. At the same time, smoking promotes the growth of disease-causing oral bacteria.
How does this affect dental implants? Essentially, smoking creates a higher risk that implants may not heal properly after they are placed, and makes them more likely to fail over time. Studies have shown that smokers have an implant failure rate that's twice as great as non-smokers. Does this mean that if you smoke, you shouldn't consider implants to replace missing or failing teeth?
Not necessarily. On the whole, implants are the most successful method of replacing missing teeth. In fact, the overall long-term survival rate of implants for both smokers and non-smokers is well over 90 percent — meaning that only a small percentage don't work as they should. This is where it's important to get the expert opinion of an implant specialist, who can help you decide whether implants are right for your particular situation.
If you do smoke, is there anything you can do to better your odds for having a successful dental implant? Yes: quit now! (Implants are a good excuse to start a smoking-cessation program.) But if you can't, at least stop smoking for one week before and two weeks after implant placement. And if that is not possible, at least go on a smoking diet: restrict the number of cigarettes you smoke by 50% (we know you can at least do that!) Try to follow good oral hygiene practices at all times, and see your dentist regularly for checkups and cleanings.
If you have questions about smoking and dental implants, please contact our office or schedule a consultation. You can read more in the Dear Doctor magazine article "Strategies to Stop Smoking."
By Eric Romano DDS
June 22, 2015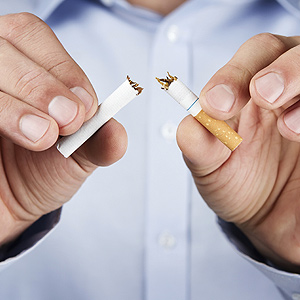 It's been widely established for decades that cigarette smoking contributes to cancer and heart disease. But did you know smoking will also increase your risk of tooth decay and periodontal (gum) disease, as well as nuisance problems like tooth staining, bad breath and diminished taste perception?
Its effects on your teeth and mouth are all the more reason to quit smoking. But deciding and following through are two different things: many smokers find it painfully difficult to quit due to their addiction to nicotine, tobacco's active ingredient.
But while difficult, it can be done. Here are 4 tips to help you follow through on your decision to quit smoking.
Change Your Response to Stress. Cigarette smoking is closely tied to the pleasure and reward areas of your brain. With its "hit" of nicotine, you sub-consciously identify smoking as a way to relieve the unpleasant feelings of stress. Instead, substitute other stress relievers when it occurs: going for a walk, talking to a friend or taking a few deep breaths. In time, this substitution will wear down the trigger response to stress you've developed with smoking.
Gradually Reduce Nicotine. You don't have to quit abruptly or "cold turkey": over the course of a few weeks, try switching to brands with decreasing levels of nicotine. Each week change to a brand with 0.2-0.4 milligrams less nicotine yield than the brand you were smoking the previous week. When you reach the lowest nicotine yield you can find, begin reducing the number of cigarettes you smoke each day. You can find a list of nicotine yields by brand at www.erowid.org/plants/tobacco/tobacco_nic.shtml.
Quitting Loves Company. While you're responsible for quitting, you may also benefit from the support of others. Usually eight to ten weeks of peer group sessions, a cessation support group provides instruction and ample structure with others engaged in the same struggle. You can usually locate one of these support groups by asking your healthcare provider.
Talk to Your Doctor or Dentist. Next to you or your family, no one wants you to quit more than we do! We can provide you information, treatment and encouragement as you take this big step toward improving your life and health.
If you would like more information on how to quit smoking, please contact us or schedule an appointment for a consultation. You can also learn more about this topic and more tips for quitting by reading the Dear Doctor magazine article "10 Tips to Help You Stop Smoking."