Posts for: September, 2019
By Eric Romano DDS
September 14, 2019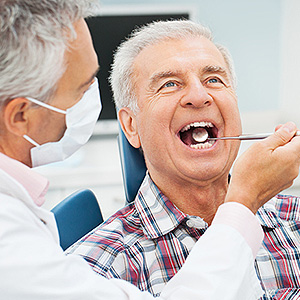 One thing's for sure: We're all getting older. Here's another sure thing: Aging doesn't necessarily look the same on everyone. That one spry octogenarian lapping younger folks on the track is all the proof you need. That's why September has been designated Healthy Aging® Month: to remind everyone that aging well is an investment you make throughout your life—and that includes taking care of your dental health.
Just like the rest of the body, your teeth and gums are susceptible to the effects of aging. For example, after 50,000-plus meals (about 45 years' worth), you can expect some teeth wear. A tooth-grinding habit, though, could accelerate that wear. If you think you're grinding your teeth (especially at night), we can fit you with mouthguard worn while you sleep that reduces the force on your teeth. Managing your stress could also help reduce this involuntary habit.
Aging also increases your risk for the two most common dental diseases, tooth decay and periodontal (gum) disease. Although different in the way they infect oral tissues, both can ultimately cause tooth and bone loss. Prevention is your best strategy—through daily oral hygiene and visiting the dentist regularly to keep the dental plaque that fuels both diseases from building up on your teeth.
You should also see your dentist at the first sign of a toothache, unusual spots on the teeth and swollen or bleeding gums. These are all indicative of infection—and the sooner you're diagnosed and treated, the more quickly you can return to optimum oral health.
Aging can bring other health conditions, and some of the medications to manage them could reduce your mouth's saliva flow. Because saliva fights dental infections and helps restore enamel after acid attacks, "dry mouth" can increase your disease risk. If you're noticing this, speak with your doctor about your medications, ask us about saliva boosters, and drink more water.
Finally, have any existing restorations checked regularly, especially dentures, which can lose their fit. Loose dentures may also be a sign of continuing bone loss in the jaw, a consequence of losing teeth. If so, consider dental implants: The design of this premier tooth restoration can help curb bone loss by encouraging new growth.
There's a lot to keep up with health-wise if you want your senior years to be full of vim and vigor. Be sure your teeth and gums are part of that upkeep.
If you would like more information about protecting your dental health as you age, please contact us or schedule a consultation. To learn more, read the Dear Doctor magazine articles "Understanding Aging Makes Beauty Timeless" and "Dry Mouth: Causes and Treatment for This Common Problem."
By Eric Romano DDS
September 04, 2019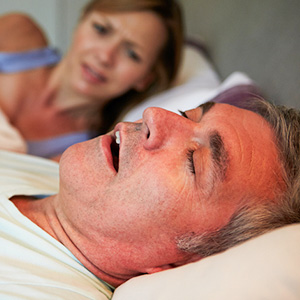 When you awake in the morning do you still feel exhausted? Are you irritable during the day, unable to think or focus clearly? Is your loud snoring bothering your bed partner?
If you answered affirmatively to any of these questions, you may have sleep apnea. This happens when an obstruction (usually the tongue) blocks the airway during sleep, preventing you from breathing. Your brain notices the drop in oxygen and wakes you to re-open the airway. The arousal lasts only a few seconds, and you may not even notice. But because it can happen many times a night, these waking episodes can rob you of the deep sleep your body needs.
Sleep apnea is more serious than simply waking up grumpy. Over time, it could contribute to dangerous health conditions like high blood pressure or heart disease. If you're noticing any of these signs, it's important then that you undergo a complete examination by a physician or dentist trained in sleep-related issues.
Fortunately, there are ways to reduce sleep apnea. One of the most common is continuous airway pressure (CPAP): This method uses a small pump that pushes pressurized air through a face mask worn while the patient sleeps. The forced air keeps the airway open and reduces apnea episodes.
While it's an effective method, it can be uncomfortable and cumbersome to use—some people can't tolerate wearing the mask while they sleep. But if your sleep apnea symptoms are mild to moderate, your dentist may be able to provide an alternative therapy with a specially designed oral appliance.
Similar to a mouthguard or retainer, a sleep apnea appliance worn during sleep holds the lower jaw forward, which helps move the tongue away from the airway. It's much less cumbersome (and noisy) than a CPAP machine. And your dentist can custom design and fabricate your appliance for a comfortable fit.
Not all cases of sleep apnea can benefit from such an appliance, or even from CPAP therapy. Extreme cases could require surgery to remove tissues blocking the airway. But most sleep apnea patients don't require this invasive intervention. Getting checked by a qualified medical professional could open the door to a more convenient and effective way to a better night's sleep.
If you would like more information on dental solutions for sleep apnea, please contact us or schedule an appointment for a consultation.