Posts for: August, 2019
By Eric Romano DDS
August 15, 2019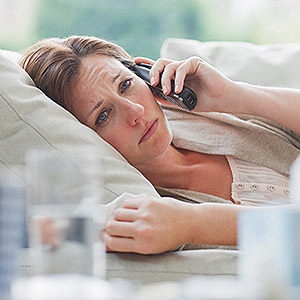 Chicken pox is a common viral infection that usually occurs during childhood. Although the disease symptoms only last a short time, the virus that caused it may remain, lying dormant for years within the body's nervous system. Decades later it may reappear with a vengeance in a form known as herpes zoster, what most people know as shingles.
A shingles outbreak can be quite painful and uncomfortable—and it's also not a condition to take lightly. Occurring mainly in people over fifty, it often begins with an itching or burning sensation in the skin. This is often followed by a red rash breaking out in a belt-like pattern over various parts of the body, which may later develop into crusty sores. Symptoms may vary from person to person, but people commonly experience severe pain, fever and fatigue.
Besides the general discomfort it creates, shingles can also pose major health problems for certain people. Individuals with other health issues like pregnancy, cancer or a compromised immune system may experience serious complications related to a shingles outbreak.
In its early stages, shingles is contagious, spreading through direct contact with shingles sores or lesions or through breathing in the secretions from an infected person. This characteristic of shingles could affect your dental care: because the virus could potentially pass to staff and other patients, dentists usually postpone cleanings or other dental treatments for patients with shingles, particularly if they have a facial rash.
If you're diagnosed with shingles, most physicians recommend you begin antiviral treatment as soon as possible. You should also let your dentist know if you have shingles, which may put off any scheduled treatments until your doctor determines you're no longer contagious.
There's one other thing you can do, especially if you're over 60: obtain a shingles vaccine, available from most physicians or clinics. The vaccine has proven effective in preventing the disease, and could help you avoid this most unpleasant health experience.
If you would like more information on shingles and its effect on dental care, please contact us or schedule an appointment for a consultation.
By Eric Romano DDS
August 05, 2019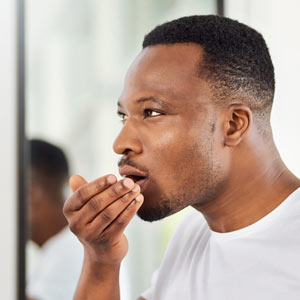 Be sure to mark August 6 on your calendars—and not just because it's the day in 1661 when the Dutch sold Brazil to Portugal, or when President Johnson signed the Voting Rights Act in 1965, or when the Ramones performed for the last time in 1996. August 6 also happens to be National Fresh Breath Day! But since fresh breath is important to us every day, we like to celebrate all month long.
Celebrating fresh breath might not seem as noteworthy as these other historical moments, but if you're a frequent halitosis (bad breath) sufferer, you know it can be downright embarrassing. More importantly, it could be a sign of a deeper health problem. It turns out there are a number of reasons why you might have bad breath. Here are the most common.
You're not adequately cleaning your mouth. Certain strains of bacteria are known for emitting volatile sulfur compounds, which give rise to that "rotten egg" smell and are a major component of bad breath. Because they feed on leftover sugars and proteins from food, you can keep them and their noxious odors at bay by brushing and flossing your teeth and brushing the broad surface of the tongue, a prime breeding ground for these bacteria.
You're not producing enough saliva. This unsung bodily fluid is a key part of good oral health. Besides helping to rinse the mouth of food particles after eating, saliva also fights odor-causing bacteria. If your mouth is dry because you're not producing enough saliva, bacteria can grow and create a number of oral health problems, including bad breath. You may be able to relieve chronic dry mouth and accompanying bad breath by using saliva-boosting agents or drinking more water. You should also talk to your doctor about any medications you're taking that might interfere with saliva production.
It could be caused by disease. Tooth decay or periodontal (gum) disease naturally give rise to bad breath—but so can other diseases like diabetes, cancer or respiratory infections. As you're dealing with these other conditions, you may also need to contend with bad breath as a side effect. You can help reduce any disease-based odors by keeping up your daily oral hygiene, especially if you're undergoing treatment for a systemic condition. Obtaining treatment, particularly if you have tooth decay or gum disease, will help reduce these embarrassing foul odors.
National Fresh Breath Day may not share the same pedestal with other momentous August dates, but if it reminds you to keep your mouth clean and see your dentist regularly, fresh breath certainly deserves its own day.
If you would like more information about the causes and remedies for bad breath, please contact us or schedule an appointment for a consultation. To learn more, read the Dear Doctor magazine articles "Bad Breath: More Than Just Embarrassing" and "Dry Mouth."