Posts for: March, 2015
By Eric Romano DDS
March 16, 2015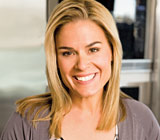 When asked about her dazzling white smile, Cat Cora, the first female iron chef on the hit television series Iron Chef America, freely admits to maintaining the brightness of her smile with professional whitening sessions.
"With what I do, whitening your teeth is like getting your hair done, your nails done and everything else you have to do to be on television," Cat recently told Dear Doctor magazine. However, she does have her limits. "I want my teeth to be white and healthy looking — but not stark white or looking like they could glow in the dark," she said with a laugh.
Cat's perceptions and experiences with tooth whitening may accurately describe Hollywood, but through the power of media, celebrities and their respective fan bases, having attractive white teeth has become a goal for most people. This is because white teeth are subconsciously associated with youth and virility.
Here in the dental office, we can use professional-strength "power bleaching" to whiten teeth several shades in a single visit. To prevent irritation to the area surrounding the teeth being treated, we isolate the gums and skin of the mouth with a protective gel or a rubber barrier known as a dental dam. After the whitening solution is placed on the teeth, the process may be supplemented by heat or a light source to activate or enhance peroxide release.
For bleaching teeth at home, our office can make custom-fitted bleaching trays that you fill with a gel form of carbamide peroxide. Sometimes this whitening gel can cause a temporary tooth sensitivity to hot and cold, but this normally lasts for no more than four days after you stop bleaching your teeth.
To learn more about tooth whitening, you can continue reading the Dear Doctor magazine article "Teeth Whitening." Or you can contact us today to schedule an appointment so that we can conduct a thorough examination and discuss what treatment options will be best for you. And to read the entire interview with Cat Cora, please see the article "Cat Cora."
By Eric Romano DDS
March 06, 2015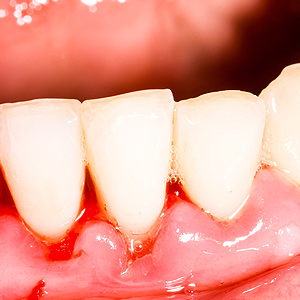 Periodontal (gum) disease is a devastating infection that eventually causes tooth loss if not treated. Plaque removal, antibiotics and possible surgical intervention have proven quite effective in stopping the infection and restoring diseased tissues; however, the more advanced the disease, the more difficult it can be to treat. It's important then to know the warning signs of gum disease.
Bleeding gums are the most common early sign of gum disease. The infection triggers tissue inflammation, the body's defensive response to isolate and fight bacteria. As the inflammation becomes chronic, however, it can weaken the gum tissues, which will then bleed easily.
Bleeding, though, is often overlooked as normal, perhaps from brushing too hard. In actuality, bleeding gums is not normal: if your gums routinely bleed during normal brushing and flossing, you should contact us for an examination as soon as possible. Similarly, if your gums are red, swollen or tender to the touch, this is also a sign of inflammation and an indication of infection.
Gum disease is often called a "silent" disease, meaning it can develop without any indication of pain or discomfort. Sometimes, though, bacteria can concentrate in a particular portion of the gum tissue to form a periodontal abscess. In this case, the abscessed tissue can become very painful, swollen and red, and may even discharge pus.
There are also advanced signs of gum disease. If your teeth are painfully sensitive when you brush, consume something hot or cold, or when you bite down, this may mean the gums have pulled back (receded) from the teeth and the highly sensitive dentin and roots are now exposed. Teeth that appear to have moved or that feel loose may mean the gum tissues have significantly detached from the teeth as increasing amount of bone loss occurs. If you see any of these signs you should contact us without delay.
Regardless of the level of disease advancement when diagnosed, prompt treatment should begin as soon as possible. This is the only way to bring the infection under control and give the gum tissues a chance to heal and rejuvenate. From then on, it's a matter of renewed dental hygiene, frequent cleanings and checkups and an ever vigilant eye for signs of returning infection.
If you would like more information on the diagnosis and treatment of gum disease, please contact us or schedule an appointment for a consultation. You can also learn more about this topic by reading the Dear Doctor magazine article "Warning Signs of Periodontal (Gum) Disease."