Posts for: January, 2015
By Eric Romano DDS
January 28, 2015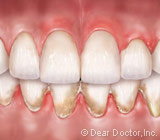 Periodontal or gum disease is a serious condition that could lead to tooth and bone loss. Unfortunately, you may not even realize you have it — the disease in its early stages can be difficult to detect. If you know what to look for, however, a few signs can tell you something isn't quite right.
Bleeding gums after brushing, for example, are a likely indication that your gum tissues are inflammed due to an infection caused by bacterial plaque. Coupled with chronic inflammation from the body's response to the infection, the unhealthy tissues bleed easily.
As the disease progresses, you may also notice changes in your gums' appearance: redness at the gum line, as well as some slight swelling. Receding gums expose more of the tooth below the enamel crown. As roots become exposed to the oral environment, you'll begin to notice painful sensitivity to hot or cold. In time, the disease may cause bone loss producing other signs like loose teeth or teeth shifting from their original position.
In some cases, gum disease can cause a painfully acute abscess. This occurs when the bacterial infection becomes isolated in a pocket of space between the teeth and gums. As the body attempts to fight the infection, its defenses are overwhelmed and the abscess becomes painful, swollen and filled with pus.
If you encounter any of these signs, it's important to take action quickly to minimize the damage and stop the disease's progress. Our first priority is to remove as much bacterial plaque and calculus as possible and may consider antibacterial and antibiotic treatments. This may take more than one session, but it's necessary in stopping the disease.
Long-term success, though, will depend on improved oral hygiene (brushing and flossing), regular office cleanings to remove difficult to reach plaque and calculus, and checkups to monitor the condition of your gums. You can also lower the risk of reoccurrence with improvements in diet and life-style (such as quitting smoking). Instituting better hygiene and lifestyle habits, as well as keeping alert to any signs of recurring disease will go a long way in preserving your teeth and overall oral health.
If you would like more information about periodontal disease and its effect on your health, please contact us or schedule an appointment for a consultation. You can also learn more about this topic by reading the Dear Doctor magazine article "Warning Signs of Periodontal (Gum) Disease."
By Eric Romano DDS
January 13, 2015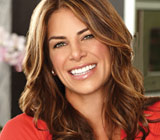 Protecting one's smile is important at any age. This is especially true for people who participate in contact sports or other activities where a trauma to the mouth can occur. While we all tend to believe that we are safe and that injuries "only happen to other people," we could not be further from the truth. Take, for example, Jillian Michaels, an accomplished author, business mogul, wellness expert, trainer and star of The Biggest Loser. She learned this invaluable lesson after breaking her two front teeth as a child and having them repaired with crowns. As Jillian stated in her interview with Dear Doctor magazine, "Now, I generally wear a mouthguard if I am doing anything where my teeth have any chance of being knocked out."
We feel obligated to educate our patients so that you can make informed decisions about your oral health. This is why we put together the following brief list of research findings.
Did you know?
According to the American Dental Association, an athlete is 60 times more likely to suffer harm to the teeth when not wearing a mouthguard.
The US Centers for Disease Control reports that sports-related dental injuries account for more than 600,000 visits to the emergency room each year.
People who do not have a knocked-out tooth properly reserved or replanted may face a lifetime cost of $10,000 to $20,000 per tooth, according to the National Youth Sports Foundation for Safety.
The Academy of General Dentistry estimates that mouthguards prevent more than 200,000 injuries each year.
If feel you and/or your children need a custom-fitted, professionally made mouthguard, contact us today to schedule an appointment. During your private consultation, we will conduct a thorough examination, listen to your concerns, and answer all of your questions as we discuss the best methods for protecting your investment — your own, or your children's, teeth.
To learn more about mouthguards, continue reading the Dear Doctor magazine article "Athletic Mouthguards, One of the most important parts of any uniform!" And to read the entire interview with Jillian Michaels, please see the article "Jillian Michaels — The Biggest Loser's health and wellness expert talks about her oral health, keeping fit and plans for the future."