Posts for: March, 2014
By Eric Romano DDS
March 18, 2014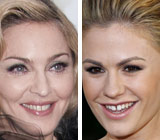 One's a singer who made her name playing New York clubs in the 1980's before catapulting to international pop stardom; the other's an actress from New Zealand who, in 1994, at the age of 11, became the second-youngest person ever to win an Academy Award. Both remain at the top of the A-list today. What other feature do Madonna and Anna Paquin have in common?
You guessed it — it's their teeth. Both have a small but noticeable gap between their two front teeth, known as a diastema. This condition is relatively common, and it's normally easy to treat — if that's something you'd like to do. But wait a moment… In certain African countries, this kind of smile is considered a sign of fertility; in France, they call it "dents du bonheur" (lucky teeth); some other cultures consider the gap a predictor of future wealth. So if you've already made this look work for you, there's no need to change it — even if you might need other cosmetic dental work.
The "perfectly imperfect" smile has become an increasingly popular option for people having veneers, cosmetic bonding, or even dental implants. Some trend-watchers have even noted a pushback against the ideal of a completely even, flawless, Hollywood-white smile. Does that create a problem at the dentist's office?
Absolutely not! We call the process of figuring out how your teeth should look "smile design" — and it's as much an art as a science. When we're just beginning to design your smile, we look at a number of features — including the size, shape, color and alignment of your teeth, the position of your lips, the amount of gums exposed, and the relationship between your smile and your other facial features. We're also listening carefully to you: what you like and don't like about your smile, how you think it could be improved… and what should stay just the way it is.
Of course, before doing any cosmetic work, we will always perform a complete dental exam to detect any underlying condition and determine what treatments are best. Then, we will work with you to help you get the smile you've always wanted. Not sure exactly how it will look when it's all done? Ask us for a preview — from computer-generated pictures to actual 3-D models, we can show you how your new smile will enhance your appearance.
So if your smile needs a little help to look its best — but you still want it to be uniquely yours — maybe now is the time to come in and see us. If you would like more information on smile design, please contact us or schedule an appointment for a consultation. You can learn more in the Dear Doctor articles "The Impact of a Smile Makeover" and "Beautiful Smiles by Design."
By Eric Romano DDS
March 03, 2014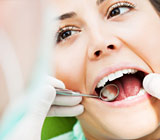 For decades, dental amalgam — the common "silver" fillings found in the mouths of millions — was the best option for restoring teeth after the removal of decay. This time-tested material is still going strong, but in recent years it's had serious competition from newer restoration techniques that use tooth-colored substances to make fillings. If you've heard of these new materials and want to know more, you can start with the following five facts.
1) Filling materials must match the properties of natural teeth.
When properly cared for, teeth are strong, resilient, and superbly functional. A good filling material should mimic the strength and durability of natural teeth under biting forces. It should also last a long time in the mouth, be relatively easy to place, and be economical in cost. In the past, amalgam fillings were the best choice to do the job. But that was then.
2) Tooth-colored filling materials offer similar benefits, plus aesthetic appeal.
Composite resins and dental porcelains are tough, durable materials that have been found to hold up well under years of use. Unlike traditional silver fillings, however, they match the appearance of natural teeth quite closely. This means that even a restoration in the front of the mouth may be virtually undetectable. And who wouldn't like that?
3) Tooth-colored resins may allow more conservative treatment in decay removal.
In order to keep them securely in place, amalgam (silver) fillings may require "undercutting," which removes more of the tooth structure. The process involved in bonding tooth-colored restorations, however, generally requires removal of less tooth material. This means a stronger base for rebuilding the tooth's structure.
4) Different treatment methods are used for different degrees of tooth restoration.
Small cavities can be treated by direct "chairside" techniques, which are very similar to the methods used for traditional amalgam (silver) fillings: in one brief visit, it's all done. When a greater volume of tooth structure must be replaced, we may be able to create a larger tooth-colored filling in a longer visit. Or, we might need to have a special restoration made to match your teeth; then, you can come back to have it securely bonded for a natural and long-lasting result.
5) Both amalgam and tooth-colored fillings are safe and effective.
Each has advantages and disadvantages in particular cases. But as the technology of tooth-colored filling systems evolves, some dental researchers have heralded the beginning of the "post-amalgam era." Are tooth-colored fillings right for your individual situation? We're the ones to ask.
If you would like more information about tooth-colored fillings, please contact us or schedule an appointment for a consultation. You can also learn more about this topic by reading the Dear Doctor magazine article "The Natural Beauty of Tooth-Colored Fillings."