Posts for: November, 2013
By Eric Romano DDS
November 25, 2013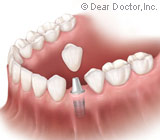 Maybe you've seen some marketing material for dental implants featuring smiling, silver-haired seniors. Perhaps this made you think that implants are a tooth replacement system that's primarily intended for older adults. If so, let's change that impression right now: Dental implants are suitable for almost all adults, not just older folks!
Today's best option for tooth replacement, implants can help most people who suffer from the problem of missing or failing permanent teeth. (In children, however, where the jaw is still growing, implants aren't generally used.) Of course, it is our goal as dentists to preserve as many of the natural teeth as possible. But when that isn't possible, implants offer the best option for tooth replacement.
The Implant System
What makes the dental implant system such a great option for replacing lost teeth? Let's start with the implant itself. This small, screw-shaped device is made of titanium metal, which has a unique property: When placed in the jaw, in a minor surgical procedure, it becomes fused with the living bone tissue. This provides a solid anchor for the visible part of the replacement tooth, the crown, which is attached to the implant by a connecting piece called an abutment.
Because the implant is securely fixed in the jaw, it provides the replacement tooth with a firm foundation that won't come loose — and it doesn't depend on other teeth for support, like bridges do. It also stops the process of bone loss, which occurs in the area of the jaw where a missing tooth was formerly located. The erosion of bone, which begins as soon as a tooth is lost, can create the appearance of premature aging, and may eventually lead to further dental problems.
Why You May Need Implants
Older folks aren't the only ones who experience tooth loss; younger people suffer from this problem too. Accidents and injuries are one cause, whether they are sports-related, or result from habits like biting pencils or grinding teeth. Lifestyle may be another factor. Poor nutrition, excessive consumption of sugary substances (including certain "sports" and "energy" drinks), and the lack of proper dental hygiene and professional care can allow moderate problems to get much worse.
A major cause of tooth loss is disease, such as tooth decay or periodontal disease. These can be a problem at any age. But a few conditions may cause serious dental problems in younger people — bulimia, for example. When stomach acids enter the mouth, they can rapidly erode the tooth enamel. Gastroesophageal reflux disease (GERD) can create similar problems.
When Should You Get Implants?
Preserving your natural teeth whenever possible is a major goal of modern dentistry. But when teeth can't be saved, it's time to consider implants. While they are initially more expensive than more traditional tooth replacement methods (like bridges or removable dentures), they can last for the rest of your life with only routine care. That's something no other method can claim, and it makes them a great value, especially for younger people. Plus, they feel completely natural and look great.
So, if you're confronting the problem of tooth loss, call our office for a consultation about dental implants. You can learn more in Dear Doctor magazine's in-depth guide, "Dental Implants."
By Eric Romano DDS
November 15, 2013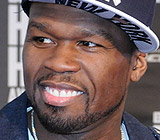 On his way to the top of the urban contemporary charts, the musician, actor and entrepreneur known as 50 Cent (born Curtis James Jackson III) earned his street credibility the hard way; his rise from youthful poverty to present-day stardom is chronicled in many of his rhymes. So when it came time for the rapper to have cosmetic work performed on his teeth, he insisted on doing it in his own way.
"I told [the dentist] to leave [my front teeth] a little bigger than the other ones, because I need to still see me when I look in the mirror," he told his co-host on the New York radio station Power 105.1. "Don't give me no whole 'noter guy — I like me!"
We understand how 50 Cent feels — in fact, we think it's a perfectly reasonable request.
Cosmetic dentistry has come a long way in recent years, as we strive to meet the increasing expectations of our patients. We realize that different people have different perceptions of what makes a smile attractive — and that in dental aesthetics, beauty really is in the eye of the beholder. That's why, before we begin cosmetic work, we want to hear what you like and don't like about your smile as it is now. In addition, we can also perform what is called a "smile analysis."
This procedure doesn't cause any discomfort — but it's a crucial part of cosmetic enhancement. In doing the analysis, we look at the various parts of an individual's smile: the spacing, size and alignment of the teeth; the health and position of the gum line; the relationship of the upper and lower jaws; and the relative shape and size of the face. All of these features combine to make a person's smile unique. By looking at them closely, we can help determine the best way for you to improve your smile.
But how can you tell if the cosmetic changes you're contemplating will end up being just right for you? Fortunately, with today's technology, it's easier than ever. Computer imaging offers a chance to visualize the final outcome before we start working on your teeth; it's even possible to offer previews of different treatment options. If you want to go a bit further, we may be able to show you a full-scale model of your new smile.
In some situations, we can even perform a provisional restoration — that is, a trial version of the new smile, made with less permanent materials. If the "temporary" smile looks, feels, and functions just right, then the permanent one will too. If not, it's still possible to make changes that will make it work even better.
Whether you're thinking about having teeth whitening, cosmetic bonding, porcelain veneers, or dental implants to improve your smile, you probably have a picture in your mind of how the end result should look. Will your teeth be perfectly even and "Hollywood white" — or more "natural," with slight variations in size, spacing and color allowed? Either way, we can help you get the smile you've always wanted.
If you would like more information about smile makeovers and options in cosmetic dentistry, please contact us or schedule an appointment for a consultation. You can learn more by reading the Dear Doctor magazine article "Cosmetic Dentistry."