Posts for: October, 2013
By Eric Romano DDS
October 30, 2013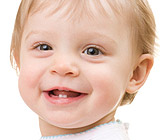 Even before your infant's first tooth emerges, you can take steps to reduce the risk for cavities!
Cavities occur when decay-causing bacteria living in the mouth digest carbohydrates (sugars) introduced into the mouth via food and beverages. This produces acid, which can eat through the protective enamel surface of teeth and attack the more vulnerable dentin below. Infants aren't born with decay-promoting bacteria; however, they can acquire them from their caregiver(s) through close contact, for example:
Kissing on the mouth
Sharing food
Sharing eating utensils (e.g., a spoon or glass)
Cleaning off a pacifier by mouth
Tooth decay is the most common chronic childhood disease! It can start as soon as the first tooth erupts — which generally happens around age 6 to 9 months but can be as early as 3 months or as late as 1 year. Besides being potentially painful, severe tooth decay may cause your child to lose the affected primary (baby) tooth before it's due to fall out on its own. That, in turn, can raise the risk of orthodontic problems because primary teeth maintain space for permanent teeth, which also use them as their guide for coming in properly.
It's important to clean your child's teeth regularly once they appear and to refrain from certain feeding activities that have been linked with early tooth decay. For example, use of a sleep-time bottle containing a liquid with natural or added sugars, such as formula or juice, can result in a pattern of severe decay once referred to as "baby bottle tooth decay." These days, the term early childhood caries (ECC) is more commonly used to also encompass decay linked to continuous sippy-cup use, at-will breast-feeding throughout the night, use of a sweetened pacifier, or routine use of sugar-based oral medicines to treat chronic illness.
We recommend that you schedule a dental visit for your baby upon eruption of his or her first tooth or by age 1. This first visit can include risk assessment for decay, hands-on instruction on teeth cleaning, nutritional/feeding guidance, fluoride recommendations, and even identification of underlying conditions that should be monitored. Your child's smile is a sight to behold; starting early improves the odds of keeping it that way!
If you would like more information about infant dental care, please contact us or schedule an appointment for a consultation. You can also learn more about this topic by reading the Dear Doctor magazine article "Age One Dental Visit."
By Eric Romano DDS
October 15, 2013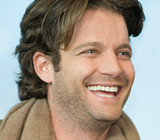 Prior to his first appearance on the Oprah Winfrey show, interior designer Nate Berkus knew immediately that he was not there to pick sofa colors and paint chips. Instead, he was there to lift people up through the way they live. And boy, did he do just that. Over the next eight years, Berkus completed 127 makeovers and became one of America's most beloved go-to guys for inspiration on the latest design trends.
During a recent interview with Dear Doctor magazine, Nate discussed his career as well as his oral healthcare. He credits his dazzling all-natural smile — no cosmetic dentistry here — to the treatments he received as a child from his dentist. "I'm grateful for having been given fluoride treatments and sealants as a child." He then added that, "healthy habits should start at a young age." Nate is still in the habit of brushing his teeth two or three times a day. As for flossing his teeth, he credits his dentist with the advice he still follows: "Floss the ones you want to keep."
Many parents and caregivers may not be aware of the important role fluoride treatments play in protecting children's teeth. Fluoride has the unique ability to strengthen tooth enamel, the hardest substance found in nature. Depending on where you live, you may have fluoridated tap water. You may also have fluoride in your toothpaste, depending on the brand you use. Both of these are beneficial, but sometimes we recommend additional fluoride treatments based on the specific needs of your children. Why? The concentrations of the topical fluorides we typically apply are much higher than what is found in toothpastes, and we apply them for a longer period of time. For example, we often apply them for four minutes per treatment session.
To learn more about fluoride treatments, contact us today to schedule an appointment so that we can conduct a thorough examination, discuss any questions you have as well as what treatment options will be best for you or your child. Or to learn more about fluoride treatments now, you can continue reading the Dear Doctor magazine article "Topical Fluoride." And to read the entire interview with Nate Berkus, please see the Dear Doctor magazine article "Nate Berkus."