Posts for: March, 2013
By Eric Romano DDS
March 22, 2013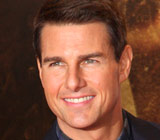 It's no surprise that plenty of teenagers go in for an orthodontic evaluation and come out wearing braces. But sometimes, an observant orthodontist may notice that an adult's smile could use a little bit of improvement, too. Even an adult like — Tom Cruise?
That's exactly what happened to the star of Top Gun, Rain Man and the Mission Impossible franchise. Cruise, then 39, was taking one of his children for orthodontic work when it was pointed out that the leading man's teeth were also out of alignment. So he opted for braces too.
"Yes, Tom Cruise has braces," said his publicist when the star appeared, sporting his new orthodontic appliances. "To him, it's no big deal." Cruise chose to get the relatively inconspicuous ceramic type, with only a thin wire visible in front of his teeth. He wore them for about a year and a half, having them temporarily removed when it was time to make a movie.
Ceramic braces are a popular choice among adult orthodontic patients, many of whom find that less noticeable orthodontic appliances fit in better with their personal or professional lifestyle. Clear aligners also provide a virtually invisible option. We can help you decide which appliance would best meet your needs. But the first step is a thorough evaluation of your periodontal health.
Is it Risky Business to get braces as an older adult? Not usually — but if you do show signs of periodontal disease, which is more prevalent in adults than teens, it's important to bring it under control before beginning your orthodontic treatment. There are also a few medical conditions, such as heart-valve disease, severe uncontrolled diabetes, and leukemia, which might preclude treatment.
For most people, however, orthodontics offers a great way to improve your appearance and boost your self-confidence — even if you're not a movie star. It is estimated that three-quarters of adults have some form of orthodontic problem; and studies have shown that orthodontic treatment can enhance an adult's career opportunities and social life.
So, if you're looking for a better smile at any age, don't hesitate to contact us or schedule an appointment to discuss your treatment options. You can learn more in the Dear Doctor magazine article "Orthodontics For The Older Adult."
By Eric Romano DDS
March 07, 2013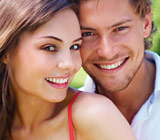 Projecting a healthy, radiant smile can help boost self-confidence and lead to increased comfort and success in both personal and career-oriented situations. Yet, many people are unhappy with their less-than-pearly whites, causing them to avoid social interaction and even lose out on opportunities because they are too self-conscious.
Your dissatisfaction with the appearance of your teeth may also be causing you to stifle one of nature's most endearing and intrinsic impulses, simply smiling!
For example, do you:
Avoid posing for pictures that require a smile?
Cover your mouth when speaking or laughing in public?
Avoid dating because you feel unattractive?
Feel that people think less of you because your smile is flawed?
Think your smile makes you look older than you are?
If you've answered yes to any of these questions, you are certainly not alone. A poll conducted by the American Academy of Cosmetic Dentistry found that, while a whopping 99.7% of respondents said they considered a good smile to be a highly important social asset, only 50% of those same respondents indicated that they were satisfied with their own smile. In addition, the Academy reported that people between the ages of 31 and 50 are most unhappy with their smile, are most concerned with making a good first impression through a strong smile, and most frequently seek out information on cosmetic dentistry.
The good news is that advances in cosmetic enhancement and restorative dentistry, including treatments like teeth whitening and the application of porcelain veneers to correct tooth crowding, make it possible for anyone to enhance or improve their smile and boost their self-image. And a complete "Smile Makeover" has been shown to positively impact the perception that others have with respect to attractiveness, popularity, and even wealth — all based on the quality of a person's smile.
Our office can work with you to determine just what it will take to improve your smile and self confidence from as little as a minor enhancement to a complete smile makeover — anything that would best match your idea of the perfect smile. To get started, give us a call.
To read about others who have regained their confidence after brightening and whitening their smiles through cosmetic dentistry, read the Dear Doctor magazine article "The Impact of a Smile Makeover."